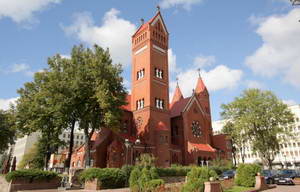 We offer you possibility with advantage and interest to spend time to a train or the bus and to combine return transfer from healht reasort or recreation center with excursion across Minsk or shopping.
To order a return transfer from healht reasort or recreation center of Belarus to rw and road service station or the National airport of Minsk you can directly at the driver at realization of a direct transfer or call us. Our driver on a comfortable minibus will meet you in appointed time at healht reasort. In Minsk the guide will join you , and spend excursion across Minsk, will acquaint with the main things sights of a city - Troitsk suburb, a church of Simeon and Elena, area of Freedom and the top city, palace of Republic and National Library (excursion on library and lifting on the viewing platformalso are possible). If your train or the bus go in the evening, don't miss possibility to see "Evening Minsk" - free from day vanity, mysterious, in the light of night fires... Duration of excursion 2.5-3 hours. After excursion you will be delivered to station or in any other point of Minsk.
If you hadn't time to get yet souvenirs for memory of the Belarus earth or want to buy clothes or products domestic production, we suggest you to make shopping (linen "Serge" and "Milavitsa", clothes "Svitanak", "Galanteya", sweets "Communarka", "Spartak", cosmetics "Belita", etc.).
Guided tour of Minsk on minibus for a group 2-7 people - 223 USD.